You can never go wrong with the classic old burger; it is easy to make, delicious, and there is an opportunity to spice things up, because you can add extras to any burger. These days, many restaurants allow you the creative opportunity to design your own burger by adding any ingredients that you might like. But here is the real whopper: now you can also create stuffed burger patties! Sounds like it could be a "flavour explosion". So there is flavour inside the pattie and all around it – how can it get any better? I would say heaven in a bun, if you ask me!
Interested in trying a stuffed burger or maybe exploring your options if you have already tried one? Read on to find some great stuffed burger recipes you can create at home. We will start off with your basic burger patty recipe; later on, the stuffed options are included.
How to make a burger patty:
Tip! When shaping your burger patty, ensure it is the same size as your burger bun. Also, make sure you shape all your patties the same size so that they can cook for the same amount of time. Depending on what type of meat you prefer, you can use beef, pork, turkey or lamb mince. The fat content is also up to you (normal, lean or extra lean). Just be aware that mince with a higher fat content will shrink more than lean mince.
Place the mince in a bowl and add salt, pepper and any other spices you wish to include such as beef spice, paprika, dried basil, etc.
Take a ball of mince from the bowl and start shaping it. Push down in the middle and then smooth out the edges to ensure there are no cracks and that the patty is a solid disc.
Now add your fillings, depending on which combination you want to try, and then add another patty on top to seal your stuffed burger. You can use a fork to seal the edges and combine the two patties together.
Grill the burger patties on a medium heat to ensure that the filling is heated without overcooking the outside.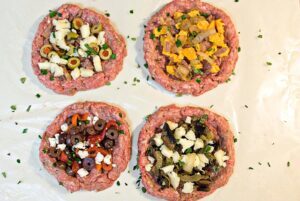 Delicious patty stuffers:
Bacon and cheese
Fry some bacon and cut it up into little pieces. Place the bacon first and then grate cheese over it to allow the cheese to melt on the bacon.
Macaroni and cheese
You can use a pre-made macaroni and cheese or, if you feeling very adventurous, you can make it from scratch. A simple recipe, macaroni, cheese, cream – Bob's your uncle!
Jalapeno and cheddar cheese
Chop jalapenos into small pieces, add on your patty and then grate cheddar cheese before closing your stuffed patty.
Mushroom and blue cheese
Saute some mushrooms in a bit of olive oil, add some garlic for flavour, and cook. When building your patty, place the heavier mushrooms first and then crumble the blue cheese on top.
Pepperoni, mozzarella and garlic
Slice some pepperoni into little pieces, place on your burger patty, then grate mozzarella on top and add a bit of garlic.
Avocado, feta and mayo
This is a slightly tricky one… if the thought of warm avo makes your skin crawl, then rather just add the feta and mayo inside your patty and leave the avocado for later and place it inside your burger bun after the patty has been cooked.
There are some adventurous patty stuffing combinations and others are just all-time classics. Don't be afraid to create your own combinations, combining ingredients you love the most to make the burger of your dreams.