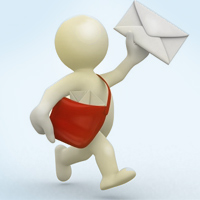 It may not constitute a publishing empire (yet), but the bidorbuy offer of electronic newsletters has grown noticeably. From humble beginnings, way back when we used to send only one (yes, 1!) newsletter, we have come to the figure of eight (yes, 8).
The Crazy Wednesday Newsletter is by far the oldest. It goes out once a week, usually on Tuesdays, although it bears a Wednesday date.
The CW Newsletter focuses on the most exciting event on bidorbuy, the Crazy Wednesday R1 auctions, and features promotional spots that sellers have to win for their items. The first auction for the top banner was held in April 2006. It was won for R310. In May 2006, the eight small spots went the auction way too. One seller snatched six spots for R21 each.

We (of course) promptly enforced limits, and currently bidders can bid on up to two of 12 spots, plus the top banner.
Auctions for advertising space in the CW Newsletter are held on Fridays, as part of the Snap Friday event. (Sellers, if you want to bid, navigate to bidorbuy Advertising. And read the listings carefully, like you would have your buyers do it.)
The Deal of the Week Newsletter is a weekly published on Mondays. It first saw the light of day at the end of January 2011. This Newsletter serves to promote our Deal of the Week, the section where bidorbuy sellers list buy-nows at reduced prices. A special bidorbuy task force sees to it that all products listed in Deal of the Week (and, by definition, in the DOW Newsletter) have the best possible discounts. Listings in our Deal of the Week are by prior arrangement only, and we choose what goes into the Newsletter (at no charge to the sellers).
Thus we come to 2013 and the birth of a multitude of thematic newsletters (six, to be precise) designed to cater for bidorbuyers with specific interest. The fist of them, entitled Chill Room (devoted to art, crafts, books, music and movies), is already out. Next, it will be the turn of Alison Loves to brighten your in-box with fashion news.
Other thematic newsletters include Living Zone (business, property, garden, home and family), Get Moving (sport, travel and motoring), Digital Byte (computers, electronics, cell phones, gaming and photography), and Rare Finds (antiques, coins, stamps, collectibles and gems). For the time being, we send a different thematic newsletter every month, so each gets published twice a year, but who knows what the future holds – perhaps, one day, all six will switch to a monthly publishing schedule.
Now, to answer the all-important question: how do you subscribe to the bidorbuy newsletters?
First of all, let it be known that only registered bidorbuy users can opt to receive our newsletters (everybody else misses out).
If you are new to bidorbuy, you will be presented with the choice of the newsletters you want to receive during the registration process.
If you are already a registered bidorbuy user and want to expand your views (that is, the number of our newsletter in your in-box), log in, go to My bidorbuy, click on Update Your Account Details (top right), scroll to the bottom and start ticking away.
Ideally, this is what your subscription list should look like:

Do note that we may occasionally send additional electronic missives to our subscribers' database, for example at Christmas or Valentine's Day.
And what if all of that becomes too much for your in-box? You can always unsubscribe, by clicking on the corresponding link in the footer of the newsletter you no longer wish to receive. Alternatively, you may go to Update Your Account Details page and manage your subscriptions, un-ticking the ones you grew tired of (temporarily, we hope) and ticking the ones you'd like to check out.
Whichever of the bidorbuy newsletters you opt to receive, do remember to forward the issues you like best to your friends via the link in the footer.