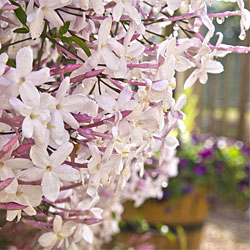 Aren't you glad you are in South Africa now, when jasmine is in bloom!
September must be one of the most exciting months for South African gardeners. The gardens are filled with the fragrance of jasmine and yesterday, today and tomorrow. The fruit trees are blossoming. The spring flowering bulbs are at their best.
But, gardening-wise, there's more to September than burying your face into the jasmine and enjoying the spectacle of flowering crab apples, peaches or cherries. Everyone who has ever grown anything, be it even on a balcony, knows that a gardener's job is never done.
According to gardening gurus, the to-do list for September includes (but is probably not limited to):
Clearing away winter annuals that have finished flowering.
Pinching shrubs such as fuchsias and daisies to encourage side shoots and more prolific flowers in summer.
Assiduously snipping topiaries to prevent spring growth from distorting their shape.
Diligently waging war on snails, cutworm and other pests.
Tirelessly pulling out weeds.
Fertilizing. And then fertilizing some more.
Planting, and planting some more.
Since the last item (planting) is the most interesting one, let's take a look at what bidorbuyers are sowing in their gardens this September. A look into the Recent Buys reveals the top five bestsellers:
And here are some of the most popular flowering plants that bidorbuyers are buying for their gardens:

So, we provided the ideas. It's now up to you to start planting for glorious colour that will last into summer and beyond. Enjoy!