When buying a new car, South Africans are mist likely to buy a Polo Vivo.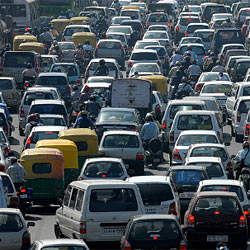 That's according to the data collected by the National Association of Automobile Manufacturers of South Africa (NAAMSA) for the period from January to November 2012.
During that time, South Africans bought 405,349 brand-new vehicles. The most popular car brands were:
Toyota, with 112,215 units sold. Toyota's best selling vehicle was Toyota Hilux, which has sold more than 31,687 units between January and November 2012.
Volkswagen, with 100,533 
units sold. The best-seller for this brand was Polo Vivo (being the winner, it deserves a repeat linked mention). With 32,726 units sold between January and November 2012, this was the number one selling model of any brand.
General Motors South Africa (GMSA), with 64,859
units sold.
GMSA's best selling model for 2012 was a Chevrolet, the Chevrolet Utility to be precise, which sold a total of 17,927 units between January and November 2012.
In 2009, there were 162 cars per 1000 of people in South Africa. If you are aching to join their ranks but do not have funds for a new vehicle, follow the links provided in this post to find last year's most popular brands and models among the (mostly) second-hand cars offered on bidorbuy.