Late in March this year the Volkswagen Golf 7 was named World Car of the Year for 2013. That's not a bad accolade when you consider the competition came from the likes of the Mercedes A-class and the Porsche Cayman.
What's more, it's the second year in a row that Volkswagen has won the coveted award. So what makes Volkswagen and the Golf 7 such a success?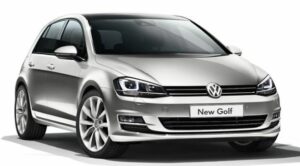 For a start, Volkswagen has developed a strategy they call MQB – Modularer Querbaukasten, or Modular Transversal Matrix to us not fluent in German. Basically, this strategy aims to have a common mounting platform for all transverse engine models throughout the Group. This has enabled Volkswagen to share the same architecture on the Golf 7 and the Audi A3.
With all-wheel independent suspension and the MQB design characteristics, the Golf 7 is an all-new creation. It's not just an upgrade to the already highly praised previous Golf model, but is bigger, has more room and yet at the same time is 100 kg lighter than before, thanks to new materials and a clever design team.
The wheelbase has been stretched by 59 mm to 2,637 mm and, while that doesn't sound like much, it equates to a much roomier interior. The lighter weight and longer wheelbase combine to give the kind of handling only dreamed about by the Golf's rivals, with a big car feel in a  hatchback.
Engine choices available are the usual suspects – the TSI or TDI alternatives. The TSI (turbocharged petrol) is available in a 1.2 or 1.4-litre version, while the TDI (turbocharged diesel) comes in a 2.0-litre version. Furthermore each engine is quite frugal and keeps CO2 emissions quite low.
The pick of the bunch, particularly if you prefer a manual gearbox, is the 1.4-litre TSI coupled with a six-speed manual gearbox. For the more sporty drivers, the GTI is now available with the Golf R coming soon.
Volkswagen has ensured that the new Golf comes with a full audio system and the ability to use your MP 3 device in the vehicle.
Safety has also been addressed in the Golf 7. The adaptive cruise control features an emergency braking function, while the braking system itself has been upgraded to a multi-collision avoidance system that automatically brakes the car in the event of an accident to avoid any further collisions.
Couple these innovations with a driver fatigue detection system and a lane changing assistant and you'll not only enjoy driving the new Golf 7, but you'll feel safer too.