You already know that selling on bidorbuy is a simple procedure. Still, in comparison with signing up as a buyer, registering as a seller does involve taking an additional step. To start selling, you need to enter your bank account or credit card number on the site and have R10 debited and credited back. That can take time, usually up to three days.
Or so it used to be. As of today, there are two levels of seller registration: the old way and the new, simplified way. Sellers who cannot wait to start selling will be able to list their items without any delays.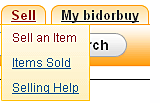 The simplified seller registration option does not require entering bank or credit card details. If you are registered on bidorbuy but did not go through the normal seller registration procedure yet, simply click on the Sell an Item link, to be found in the drop-down menu below the Sell button. You will be given the option to become a basic seller, with somewhat restricted field of activity, or an advanced seller, with unrestricted run of the site (well, in a manner of speaking – all within rules and regulations, of course).
Here are the main differences between basic sellers and advanced sellers:
The basic status notwithstanding, it is now so easy to sell on bidorbuy that you have no excuses not to try. Open your closet and bravely list on bidorbuy those never-worn jeans, the ones you bought just to prove a point to the sales lady who had the nerve to tell you: Oh, you need a bigger size. Rummage through your shoes rack and earmark for sale on bidorbuy that pair you wore once and as a consequence lost the use of your feet for a few days. Look around your house and, once again, resist the urge to bin that big porcelain figurine, even though it makes you cringe every time you look at it. Instead, sell it on bidorbuy.
And when your appetite increases after the first few successful sales, click on the "become an advanced seller" link. After the successful completion of the usual up-to-three-days procedure, you will be granted the advanced status which will enable you to accept additional payment options, to enhance your listings and to make personal offers. While you are at it, go all the way and get yourself a verified user status. It is bound to reflect on your sales!
Updated on 2 September 2009 to reflect the newly adopted terminology, namely "basic" and "advanced" seller.