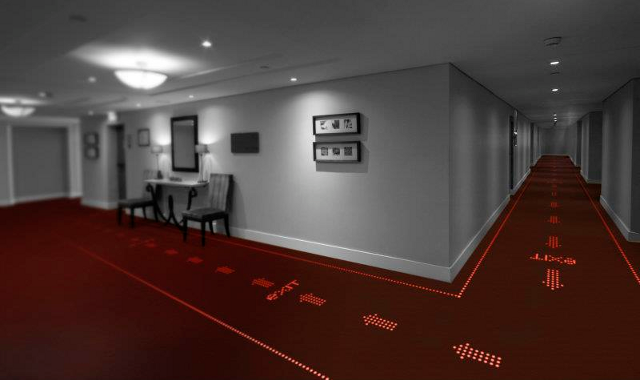 Launched in June 2014, Luminous Carpets is the unique fruit of the collaboration between Desso Carpets and Philips. They created Luminous Carpets by coupling light transmissive carpets with LEDs. The result is a diverse new tool for interior designers, architects and spatial planners alike. The possibilities are endless.
What does it do?
Using a simple app, Luminous Carpets can be programmed to display warnings, directions, messages, safety or emergency information. By instantly passing on important information to those who need it, Luminous Carpets transform the way in which people interact with a space.
In addition, it provides interior designers with the opportunity to explore the new Luminous Carpet as a means to create ambience.
How does the carpet work?
The high quality carpet producer developed the new light transmissive carpet to be the same thickness as the average carpet. It even looks the same as the average carpet, until you see a light passed behind the carpet, that's when you realise that the carpet is in fact translucent. The addition of Philips' compact, durable and splash resistant LED's behind the carpet completes the scene.
What was the concept based on?
This is where it gets interesting. Combine a few clever facts:
1. People tend to naturally be guided by the floor when moving through a space.
2. People naturally seek out light.
So it's easy to understand the natural progression of this intelligent product, and to appreciate how it is able to intuitively direct people.
What is the ultimate goal for the Luminous Carpets?
Striving to contribute to the health and wellbeing of the public, whilst also having a positive impact on the environment, are at the core of both Desso Carpets and Philips values.
In line with this, Luminous Carpets serve to cut down on visual clutter often accompanied by indoor public spaces. It's this visual clutter which serves only to distract people from important information needing to be conveyed as well as the task at hand – whatever it may be.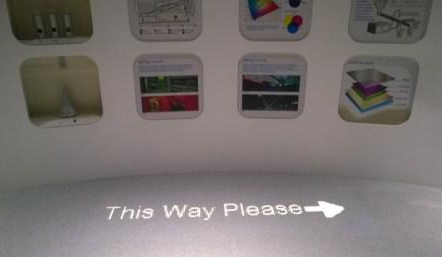 By ditching the unsightly posters and safety signage for Luminous Carpets, people are less likely to be constantly bombarded with otherwise unnecessary information. Removing this aspect of visual clutter could result in public spaces feeling more welcoming and safety and emergency information no longer going unnoticed.
The Other Bonuses
The LEDs are also available in colours and the lighting array is customisable.
The Luminous Carpet has been designed for use in public spaces, so it is durable and robust.
When the LEDs are switched off, the Luminous Carpet looks like an ordinary carpet.
The Luminous Carpet is a flexible and scalable solution; the cost is dependent on the number of LED strips and the amount of carpet needed.
Luminous Carpets were initially launched in The Netherlands and the UK, soon enough you will see this unique Philips and Desso Carpets creation here too.
All trademarks and registered trademarks are the property of their respective owners.