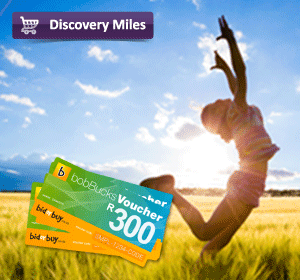 UPDATE: This competition is now closed. Our nine winners are: Ioannis Kambanis, Carmen Barkhuizen, Kathy Proctor, Craig Hoekstra, Geoffrey Francis, Christelle du Plessis, Jean Steenkamp, Rindt Olivier and Grieta Lubbe. Congratulations to them, and a big thank you to all who participated in this competition!     
Spend 1000 Discovery Miles on bidorbuy during November 2015 for a chance to win one of nine R300 bobBucks shopping vouchers!
Did you know that November got its name from the Latin word novem, meaning nine, even though it is the eleventh month of the year?
In the defence of the very old Romans who named it so incongruously, November was the ninth month until January and February got introduced (also by Romans) around 700 BC to accommodate most of the days left over from the ten months long year.
Together with November, September (seventh), October (eighth) and December (tenth) suffered the humiliation of having their names rendered absurd by the introduction of the two newcomers.
But, let's return to November, because it is in November 2015 that we are going to reward lucky buyers who spend Discovery Miles on bidorbuy.
Yes, buyers.
Not one buyer, or two, or three.
To thank all who spend their Discovery Miles in the vast bidorbuy online marketplace, and as a nod to the true meaning of November, we will be giving away as many as nine bobBucks vouchers, each to the value of R300!
Now for the crucial bit:
How can you enter this competition and stand a chance to be one of nine lucky winners to win R300 bobBucks?
It's really very simple. Just buy something – anything – on bidorbuy during the month of November and pay with 1000 or more Discovery Miles. You will be automatically entered into the competition. Then keep your fingers crossed and come back to this blog at the beginning of December… to discover whether your name is among the lucky nine!
(1000 Discovery Miles = R100)
(R300 bobBucks = R300)
Get shopping now!
The competition fine print:
Everyone who spends at least 1000 Discovery Miles per purchase on bidorbuy between 1 and 30 November 2015 is automatically entered into the competition.
There will be nine winners.
The winners win a R300 bobBucks voucher.
The voucher will be valid for 6 months from the date of issue.
bobBucks can only be spent on www.bidorbuy.co.za and are not exchangeable for cash.
Non-completion of a purchase disqualifies the entry in question.
The winner will be chosen by a random draw and declared at the beginning of December 2015 in this blog post.
Happy shopping and good luck in the bidorbuy and Discovery Miles (not the ninth month) November 2015 competition!