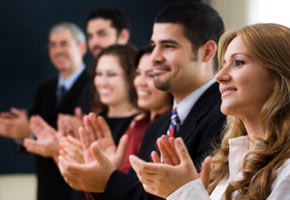 bidorbuy is currently in the top sellers' mode. Basically, that means that our representatives are touring main centres and honouring (with choice dining and wining, plus a certificate) those sellers who managed to make the most of the bidorbuy trading platform during the past year.
You will learn the names of the three top bidorbuy sellers for Johannesburg, Cape Town, Durban and Port Elizabeth in due course. For the time being, let us ask you this question: did you ever wonder what goes into making a good, or even a top seller on bidorbuy?
We'll let you into a secret. It's not so much about what they sell. It's more about how they do it.
And this is where the central theme of this post comes in:
We can show you how to become a good or even a top seller on bidorbuy.
No, we will not go so far as to claim that attending a bidorbuy Selling Seminar is a condicio sine qua non for becoming a successful trader on the site. The bidorbuy help pages, articles section, blog and (perhaps first and foremost) the forum are full of information and advice. Read them and heed them, and you cannot fail to succeed.
However, attending a selling seminar session surely makes the task easier. Face-to-face interaction with bidorbuy's Johan du Toit will help absolute beginners enter the world of ecommerce. It will also help more experienced sellers advance further. At R295, the bidorbuy Selling Seminar must be one of the most effective and the least expensive way to learn the ins and outs of selling on an online marketplace.
This July, sellers from Durban, Johannesburg, and Port Elizabeth have the opportunity to master the tools and skills they need in order to close more sales and to earn higher profits on those sales. Use it! Book your place online now: the bidorbuy Selling Seminar will hold court in Durban on 14 July, in Johannesburg on 18 July and in Port Elizabeth on 21 July.