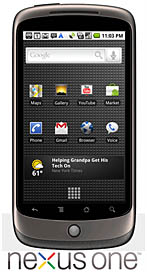 It was about time. Hats off to iPhone, but it ruled supreme as the most coveted gadget on bidorbuy for far too long.
These days, Google has released Nexus One, with the open ambition to dethrone iPhone.
Google calls its Nexus One the world's first super phone. It is as slim as a pencil, feather-light (it weighs 130 grams), and its surface area is about as big as a deck of cards. The precise dimensions of the handset are 119 x 59.8 x 11.5mm.
The screen is slightly larger than the iPhone one. The device can take five-megapixel photographs and can record DVD-quality videos (20 frames per seconds). It features a 1GHz Qualcomm 8250 processor, 512MB of RAM and 512MB of internal Flash storage. The last figure is very restrictive, but the device does have a microSD card slot that allows expansion to up to 32 gigabytes of storage.
A cool feature of Nexus One is that it can hear you. You can call out a name or a number, talk in the general direction of Nexus One, and the device will convert your voice into a text message. And when you call out an address, the built-in navigation system will find the location and provide directions.
Nexus One, built by HTC, runs on Google's Android operating system. It offers users a touch-screen interface and the ability to run multiple applications at the same time. Android has a large application store; unlike the Apple App Store, applications made available for Android are free.
Google will not be selling Nexus One through service provides, but through its website, allowing customers to pick which network they want to operate their phone on. The unlocked version can be used with any carrier, although 3G speeds will only function on certain networks.
This freedom from the wireless carriers translates into higher price for the handset, for it will not be subsidised by large telecoms companies. Analysts are still trying to figure out the business sense behind this (is Google in the business of selling handsets, they wonder) and to possibly discern the outline of a new business model.
Nexus One became available on January 5, 2010. It will be rolled out gradually. The first test markets are the USA, Great Britain, Hong Kong and Singapore. It is not known when the phone will be available to the rest of the world. This non-availability is sure to make Nexus One even more sought-after than it would be in normal circumstances, as Google is bound to know.
It will be a while before Nexus One reaches South Africa – officially, that is. Unofficially, the smartest smartphone of them all is already available on bidorbuy. Just do a search for Nexus One!
And what do the tech experts say about the newest attempt of Google to gain world domination in yet another field of human activity? Mostly, they give a reply worthy of the Delphi oracle: Nexus One will either kill the Android OS – or make it, they declare.