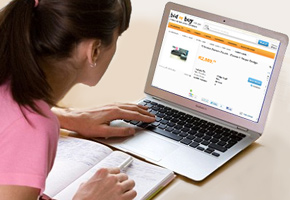 You can do it on the cheap side, or you can splash out.
In an average week (we looked at the one ending 6 September), bidorbuyers bought over 850 pieces of furniture for dining and living room.
Among other things, you bought: four TV cabinets or LCD stands, nine ottoman storage sets (ah, we all need extra storage space!), four coffee tables, four sofa beds, eight lounge suites, plus several bar stools, chairs, plastic tables, etc.
The most expensive lounge suit bout was a R6999 nine seater, and the cheapest one was a R2100 six seater. Both are stunning (congrats to the new owners!):

But that is not all. During the same period, bidorbuyers bought almost 60 pieces of furniture for dining room, living room and study in the antique furniture section of the site. You obviously know that there is nothing like an antique piece to give character to your living space! Just take a look at some of the exquisite beauties that found a new home: an old record playing cabinet, a walnut corner cupboard, a real jewel of an oak desk, an Art Nouveau writing bureau, a pretty dresser with a mirror, and – our favourite – a shabby chick wooden bench.
If you even had doubts about buying furniture on bidorbuy – we are confident that the overview above dispelled them!
The best three things about buying furniture on bidorbuy are: choice, accessibility and affordability. You are guaranteed to find practically everything you could ever want; you can shop at any time you like, be it midday or midnight; and you will, more often than not, pay less than elsewhere.
For example, this R450 compact dining set is a real find for bargain furniture hunter. And this R2799 beige lounge suite would certainly go well with it.

A more relaxed shopper (more relaxed budget-wise, that is) might want to take a look at this delightful R5995 rattan dining set. Be warned: one look could be enough to get you hooked, and you'll probably end up with it in your dining area! Since one thing usually leads to another, this R9995 wicker lounge set would go nicely with your rattan dining ensemble.

Whether you are going for low-cost or plan to splash out, remember to include something original in your selection of furnishings, like this stunning coffee table (don't even look if your idea of a coffee table is something with straight lines and sharp edges), or this absolutely loveable old wood burning belly pot stove.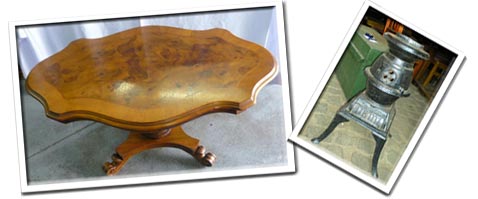 No money for fancy-shmancy stuff? You can still give your living space character with and original, one-of-the-kind piece. For example, you may buy a standard dining room or coffee table and paint it, distress it, or mosaic it. Have fun!
Also see: Three Furniture Buying Fundamentals