It's important to create a comfortable and productive working environment, whether it's at the office or in your #WFH space. The best way to start is with the basics, namley a sturdy office desk, a proper office chair and all the electrical gadgets you need to work effectively. That's efficiency taken care of, but you also want to feel comfortable, and be able to add a touch of your own personality. It always helps to incorporate some colour, texture and fun gadgets, so read on for our top five office gadget must-haves.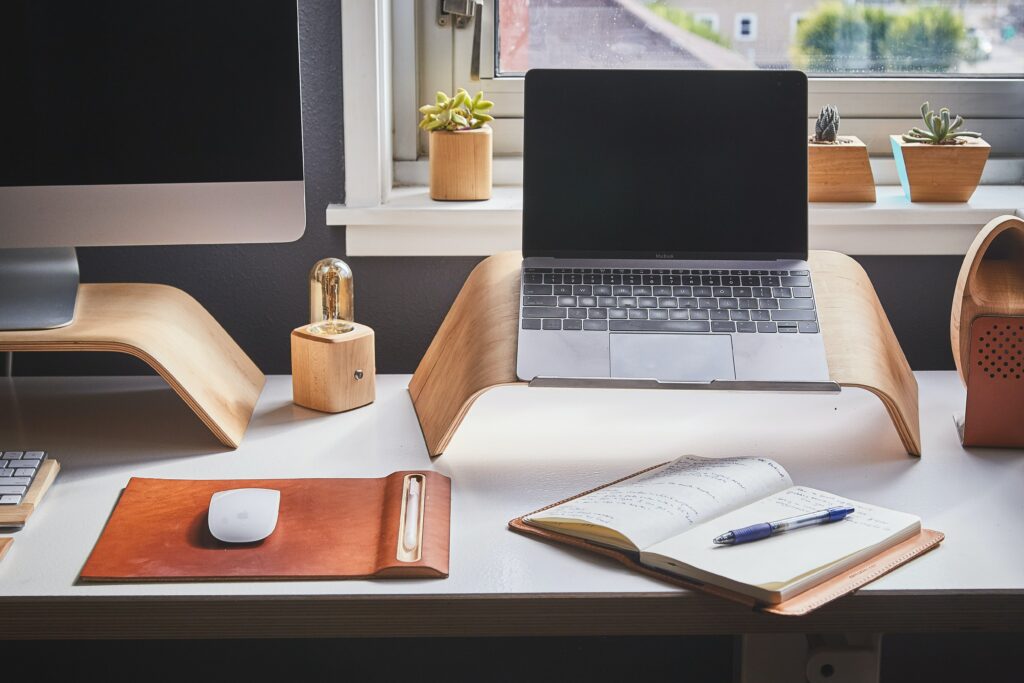 Image courtesy of Ken Tomita. Published on 21 April 2017. Source: pexels.com
Keep your brew warm, all day long
You've made the most delicious cup of coffee but a few urgent emails later, you pick it up only to find that it's stone cold… eurgghh! That's a real issue in winter, and it's a terrible way to start your day. Eliminate the disappointment with a mug warmer – if you're prone to forgetting about your coffee, this might be exactly what you need on your desk. Select a design and colour that suits your style and desk aesthetic, and look for a lightweight model that has essential functions like safety and quick heat settings.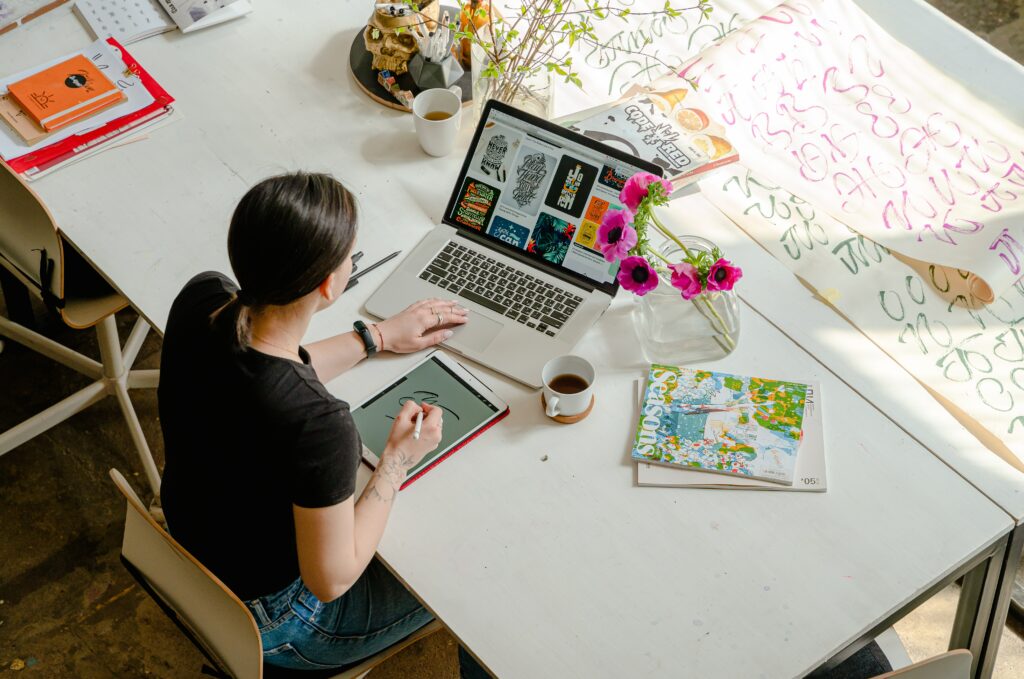 Image courtesy of Antoni Shkraba. Published on 8 May 2020. Source: pexels.com
Enhance productivity with a desk stand 
If bad posture and back pain are a concern, or if you're wanting to make healthier choices in general, consider a standing desk. Divide your day into sessions that require standing and times where you sit down as usual. Over time, you'll find that you can stand for longer periods of time,and more often.. We would recommend that you select a standing desk that can be easily adjusted – and check that the different levels can support the weight of your monitors and other devices. As an alternative, consider purchasing an adjustable laptop stand that can be placed on your existing desk. Some of these even feature built-in USB fans to help stop your laptop overheating. Trust us, you'll find it's worth the investment. Tip! If you are not ready to invest in a desk stand, consider an ergonomic support cushion for your office chair. This will encourage you to sit up straight, and the improvement in your posture will help prevent back pain and discomfort.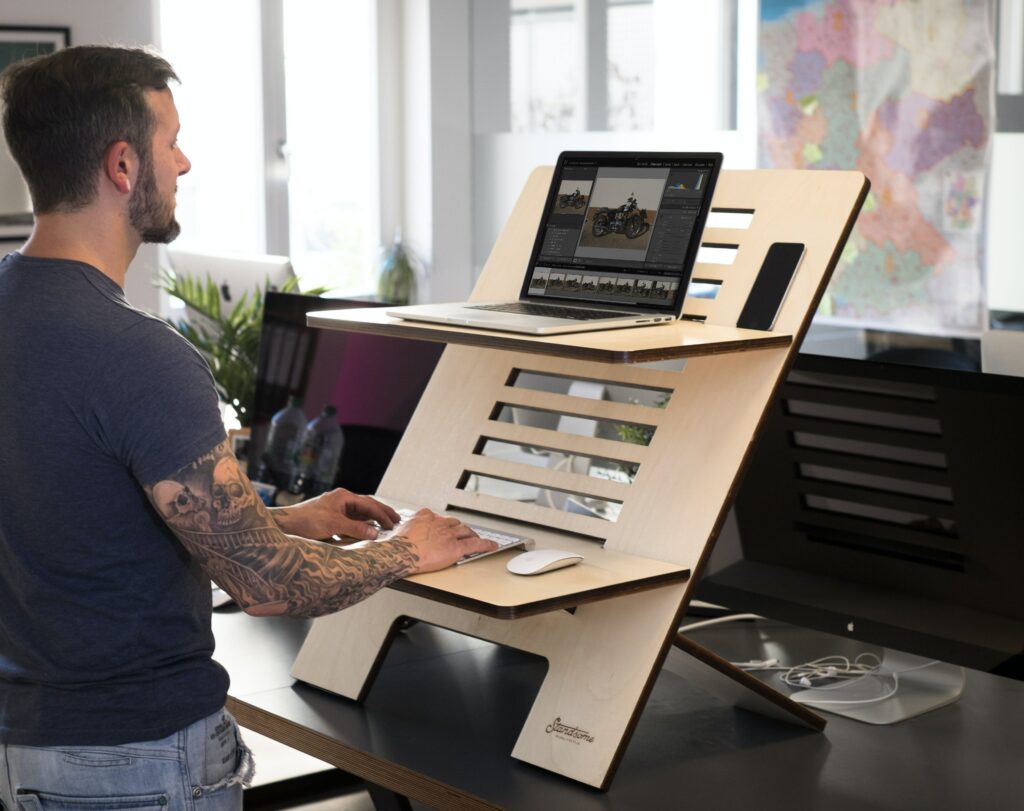 Image courtesy of Standsome Worklifestyle. Published on 28 September 2020. Source: unsplash.com
The Desk Fan That Keeps You Refreshed All Day!
Don't you hate it when the guy in tech has taken the aircon remote and decided the office temperature for everyone? Now you can take matters into your own hands and decide whether you want to chill out or stay warm with a portable desk fan/heater. One of these is a must-have for those cold days in winter, as well as for the heat of summer. Tip! Keep a blanket on your chair during the winter months in case you forgot to pack a jacket, or you're just feeling extra chilly.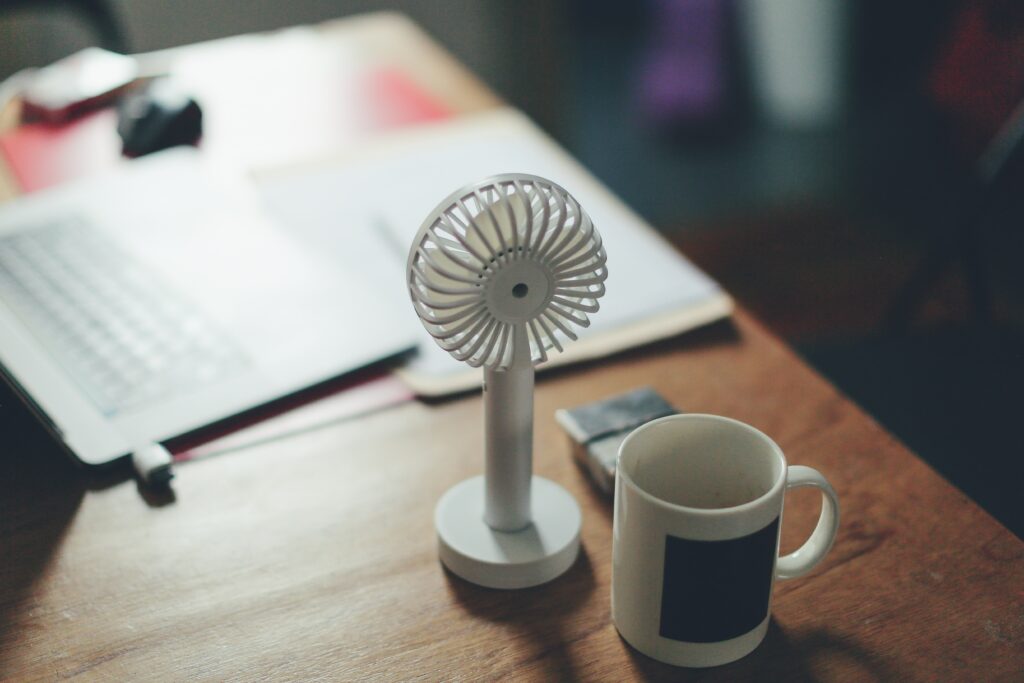 Image courtesy of Siniz Kim. Published on 11 April 2018. Source: unsplash.com
Tame the Tangle
This cable management tool has a cross-shaped design that holds up to two cables. The cross clip is made from eco-friendly silicone so it protects the planet as well as your cables, and it is also available in a range of different colours, so you can pick the one that matches your décor – or your mood.
Bringing nature to your workspace
Let's not forget a desk plant, the easiest way to add some extra life and colour to your work space. Depending on your ability to keep things alive, you can choose from a real or artificial plant and bring the outdoors indoors. You could even go a little wild and create something of a rainforest vibe. Choosing a funky pot to house your new plant baby lets you add even more colour and texture.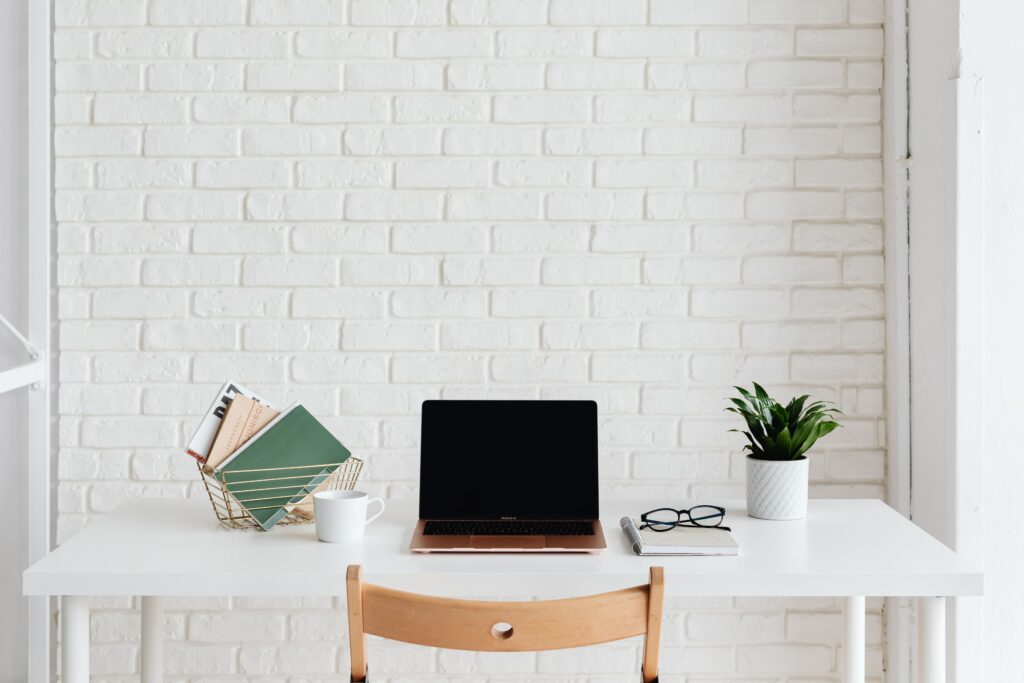 Image courtesy of Karolina Grabowska. Published on 27 May 2021. Source: pexels.com
Follow these tips and you'll have all you need to boost your productivity and make your desk the best in the office!