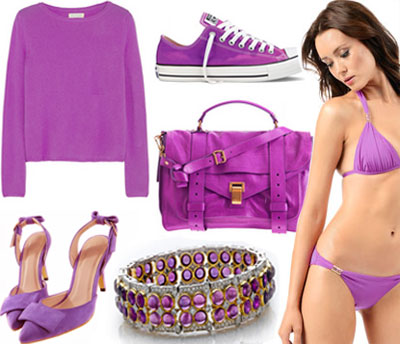 Expect to see purple just about everywhere next year, for Pantone Color Institute has proclaimed radiant orchid as the star colour of 2014.
Every December, Pantone ushers in the new in colour. Last year it was emerald green. The year before that, it was a shade of reddish-orange dubbed tangerine tango. In 2011, the queen of colours was vibrant reddish-pink hue code-named honeysuckle, and so on.
This time around, the Pantone people went for the colour more or less opposite of 2013's green on the colour wheel, purple.
But not just any purple. Radiant orchid is a soft and muted hue, described as "an enchanting harmony of fuchsia, purple and pink undertones".
Come 2014, the shade will be everywhere: in fashion, graphics, product design. Expect to see it on women's dresses, men's ties, nail polishes, handbags, upholstery, kettles…
Not a fan of purple? Ease into the look with accessories and let it grow on you. After all, it is said that radiant orchid is colour that flatters practically all skin tones. It also goes well with neutrals like beige, ivory, grey, black or white, as well as with both warm and cool colours, for example deep green, turquoise, navy, or deep red.
Besides, purple is associated with creativity and originality, and that's just where you want to be, right?
The runways and red carpet have already had its radiant orchid moments, and now it's your turn to search bidorbuy fashion pages for your soft purple 2014 look.