…especially a PC designated for photo editing tasks.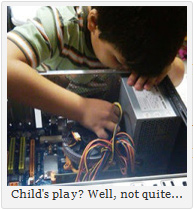 Thinking of building a new PC, or upgrading an old one? There's nothing to it. After all, all those computer components are made to be fitted into a specific slot, in one way only.
Still… you do need some know-how. We won't even attempt to go into details here. Our ambition is merely to throw light on some finer nuances of building a PC for those who are already familiar with the basics. Plus, we'll tell you what hardware you need (according to seasoned photographers) for a good photo editing machine.
And why are we focusing on a PC that's specifically geared for photo editing?
Because you'll need it if you are nurturing any hopes of winning the Best of SA bidorbuy photo competition!
First, let's review some lesser-knows snags that can come to haunt even an experienced PC builder:
Dirty sockets. That's a definite no-no. There must be no dust or debris in any of them. (You don't need to worry about this one if all yourcomponents are freshly unpacked, but it's an important consideration if you are upgrading an old machine with, for example, a new CPU.)
Mounting the motherboard into the case before installing the CPU cooler. It's better to put the cooler in place first, or you may be forced to take the motherboard out again (the hassle!).
Ignoring the sharp edges of computer cases. Many PC builders have learned to respect them only after suffering cuts on their fingers.
Not being prepared to spend some time deciphering the "English" manuals written in a non-English speaking country. (And yes, consulting manuals is mandatory, even for the know-it-alls!)
And now, let's see what you need to have inside your machine for it to be worthy of the future winner of the bidorbuy October 2012 photo competition.
In a gist, a photographer's PC must have:
A powerful CPU (something like 3GHz or more, if you can afford it);
Lots of memory (some recommend 16GB of RAM);
Plenty of storage. It's best to go with two internal hard disk derives, of which one should be at least 1TB big and reserved solely for photos. Plus, you'll need one or more external HDDs for extra storage and back-ups, as well as a plethora of flash drives;
A mid-range graphics card (you'll be editing images, not playing games, remember?)
A good monitor that can be calibrated to be colour-accurate (well, almost; no monitor is perfect). And two monitors are better than one to ensure a smooth work-flow for a dedicated photographer!
We can't promise that you'll win our October 2012 photo competition even it you follow all our recommendations to the letter. However, having the right hardware (plus the software, of course) will make your photo editing tasks a little easier, and it may result in better images too.