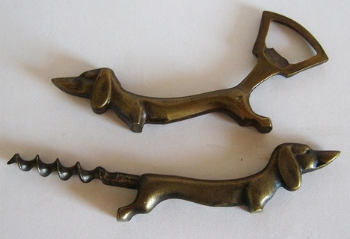 Collecting bottle openers and corkscrews has a lot going for it. It is an engrossing hobby; the exhibits can fit into a shoebox; and it can be enjoyed on a shoe-string budget.
The truth is that most people start collecting openers because they are as a rule so cheap.
Of course, as you learn more, you will probably start coveting more expensive items. Very soon, you will get caught up in the hunt for rare, beautiful, or exotic bottle openers and corkscrews – and you'll never regret it.
Corkscrew and bottle opener facts
The origin of the corkscrew is unknown. We know corkscrews have been used to open bottles as early as the 1600s, but the first patent was issued in 1795 in England.
Bottle openers became common kitchen items in 1892, when crown-top lids were invented by an American bottler named William Painter. Being a practical businessman, Mr. Painter also invented the openers for his new lids.
The earliest bottle openers were small and shaped like keys. They had a round hole in one end so that they could be attached to a keychain. Many early bottle openers also have a small square hole called a "Prest-O-Lite Key". It was used to turn the valve on automobile gas headlights until the early 1930s, when electric headlights became widely used.
Some of the most popular types of bottle openers are: advertising, key shaped, wire formed, souvenir, figural, flat figural, and multifunctional.Corkscrews are often classified by the handle, which can be made of mother pearl, ivory, bone, horn, plastic, wood, celluloid, metal, in a variety of shapes, like pistols, hands, feet, anchors, people, animals, sailing ships and so on.
People who collect only corkscrews (used to open wine bottles) are called Helixophiles.
Art Santen of St Louis, USA, owns one of the biggest collections of bottle openers and corkscrews. He has gathered more than 33,000 pieces, earning him a spot in the Guinness Book of World Records.
Alain Dorotte from France earned the Guinness World Record mention for being the fastest bottle opener. Using a T-handled corkscrew, he cracked 13 bottles in 60 seconds.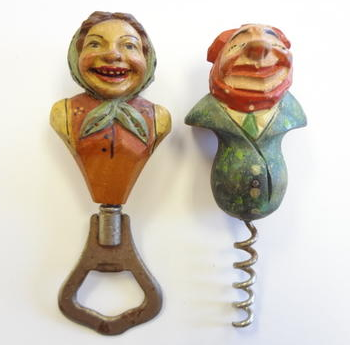 You can collect all openers, or you can opt to focus your attention on specific models only, for example figural beer openers.
The problem, there are so many openers out there that the sooner you can figure out what you really like and concentrate on it, the better.
Sooner or later, you will want to take your best specimen out of a shoe box and display them for all to see. A good solution is to place your bottle openers and corkscrews in a small glass showcase, or to frame them and put on the wall.
By the way, collectible bottle openers and corkscrews make a great gift too.