Congratulations to Christelle Erasmus and Ilze Gelderblom.
They are the lucky winners  in the AudioMart competition and they will receive their own SYNQ HPS.2 headphones valued at R1499 each.
AudioMart are so passionate about music that they want to give back to their loyal buyers. They decided to give away two SYNQ HPS.2 headphones valued at R1499 each.
---
Shop and win big with AudioMart
How to enter the competition:
To participate in this amazing competition, all you have to do is buy anything from AudioMart  between the 1st and 30th November 2016 and you will be entered into a draw to win one SYNQ HPS.2 headphones  worth R1499.
There will be two winners.
Each item purchased and paid for will count as an entry. Four items purchased and paid for will count as four entries. The more you buy, the better your chance of winning.
Yes, it's that easy!
The prizes :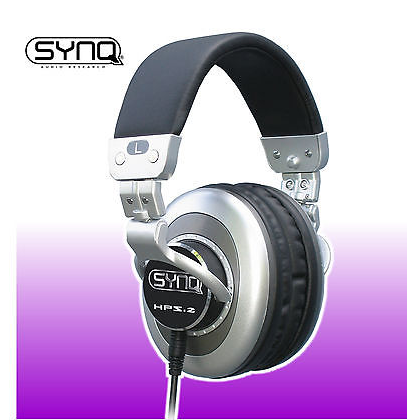 AudioMart is so awesome they are giving away two SYNQ HPS.2 Headphones.
Yes, that is correct. Two lucky buyers will receive a SYNQ HPS.2 headphones
The SYNQ HPS.2 Headphones are worth R1499
What makes the SYNQ HPS.2 headphones so amazing?
Thanks to the extra smartphone cable with integrated microphone and the extra computer adapter (separate mic & phones plug), these professional headphones can even be used with smartphones, for voip calls, computer gaming, etc.
Click on the banner below to enter store and start shopping now!

About AudioMart

Operating on bidorbuy since 2014, Audio Mart consists of people who are as passionate about music and performance as their customers. Audio Mart knows that the best equipment is essential for great performances. AudioMart have been and remain a driving force in the professional sound and lighting industry in South Africa.
Here is Audio Mart's business credo:
"Where words fail, music speaks… but not if no one can hear it. At AudioMart, we supply all you might need to enhance your audience's experience, whether they are fans of your band, patrons in your restaurant, parishioners at your place of worship or partygoers dancing to your mixes.
Our staff are sound engineers, musicians and DJs who know what it feels like to be standing on a stage and, more importantly, have been trained to get the best out of the equipment we supply. They are available to provide support for any one of our products via our call centre during office hours. Outside of office hours, you'll find them on a stage somewhere using the equipment they work with all week to enhance their own performances and enable them to give you tried-and-tested advice for getting the best out of your equipment. Our approach is to be honest and factual in dealing with your queries, with the aim of building long-term service driven relationships with our customers just as you aim to do with your audiences."
Competition terms & conditions
Competition will close at midnight 30 November 2016.

Only bidorbuy registered users may participate in the competition. If you are not a bidorbuy user, please register

here

.

Prizes cannot be exchanged for cash.

You can buy as many items as you want from the

Audio Mart

to increase your chances of winning. Payment must be completed to qualify

The winner will be chosen by

Audio Mart

via a random draw and announced via an update on the blog at the beginning of

December 2016.

There will be two winners. Each winner will receive a pair of SYNQ HPS.2 headphones valued at R1499 each.

General bidorbuy

T & C's apply