Android FAQ
We have completely reworked our Android application, sporting a new and improved user interface, better search function and image carousels.
1) What's new
• Side navigation menus for better user experience
• Filter by category, price, product models and much more!
• View your account information, recently bought items, ratings and access your wishlist
• Easy access to Flash Auctions means you will never miss out on a great deal
• Make an Offer for your favourite products on the go
2) How do I update my bidorbuy app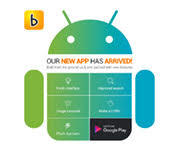 If your app hasn't updated automatically, you can head over to Google Play Store. Select "My Apps". Find the bidorbuy app and click on update.
3) My account stays signed in, why?
The new bidorbuy app keeps you signed in to remove the hassle of signing in every time you open the app.
If you want to sign out, head to the home page and click sign out at the top right hand side.
4) Where is my watchlist?
Swipe out the left hand side navigation menu and click on the watch list icon to quickly get to your watchlist.
5) How do I report an issue?
If you have any issues using the app please feel free to contact hello@bidorbuy.co.za and we will try to resolve any issues that you have experienced.
Take a look at what we have planned for the next Android release:
• Selling functionalities
• Rate users on the go
• Quick links to the buyer protection programme and other help sections
Keep a look out for our exclusive benefits and competitions for app users!