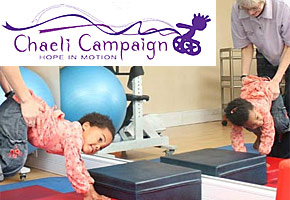 Chaeli Campaign, whose founder Michaela Mycroft won the 2011 International Children's Peace Prize, uses the bidorbuy platform to raise funds.
We at bidorbuy were delighted to learn that 17-year old Michaela Mycroft was awarded the prestigious 2011 International Children's Peace Prize.
Michaela Mycroft, also called Chaeli, received this award for her commitment to the rights of children with disabilities in South Africa. Chaeli was born with Cerebral Palsy, which limits the function of her arms and legs. At the age of nine, she and her sister and friends started raising money to buy her a motorised wheelchair. They raised more than enough, so Chaeli decided to help other disabled children. That is how Chaeli Campaign was born. Today, the organisation helps more than 3000 children with disabilities every year. The activities of Chaeli Campaign range from providing equipment and physical therapy to defending the rights of disabled children and fostering their acceptance in wider community.
"I hope that my actions as an ability activist will leave the world more accepting and more accommodating for all people and not just people with disabilities, because we are all different and we all have the need to be accepted regardless of having a disability or not." said Chaeli in her acceptance speech.
If you are a regular visitor to our Charity page (and you should be!) the name Chaelicampaign will ring a bell, because this organisation has been using the bidorbuy platform to raise funds since April this year.
One of the items Chaelicampaign sells on bidorbuy are Magic Bath Beans. They come in packs containing two beans, one of them always purple. Popped into the bath, the purple bean opens up to reveal Chaeli Campaign's funky dude in a wheelchair.
Only R50 buys you ten such packets, to keep your child amused in the bathtub over and over again.  Plus, you get the pleasure of knowing that you have helped a great cause.
Other items that Chaelicampaign sells on bidorbuy include The Essence of Hope Fragrance, "My Best Friend" Porcelain Doll, Christmas wrapping paper, and so on. Remember to check the bidorbuy Charity listings page often for their newly listed items!