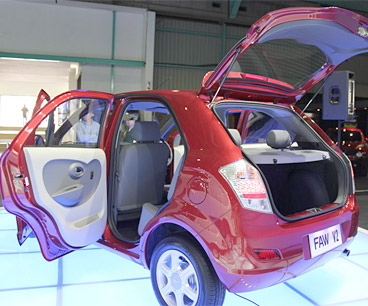 The show is held from 18 to 27 October, and the visitors have a chance to see almost three hundred passenger vehicles.
Every other year, Johannesburg becomes the centre of the motoring world, showcasing the cars of today and the cars of tomorrow.
Not every well-known car manufacturer is present at the show. Those that did come, spared no expense to showcase their latest and their best. So, the visitors can count on being fascinated with more than 250 exhibited vehicles and a score of concept models.
Among the most attractive cars showcased this year are:
Nissan Leaf: Touted as the first all-electric vehicle for sale on the South African market, The Nissan Leaf will retail for R446,000. You will also need to fork out R30,000 for a home charger, and you will have to depend on Eskom. Nissan representatives say that the initial high cost is offset by low running charges. It takes about seven hours to fully charge the Leaf's battery, for a driving range of up to 195 kilometres.
BMW i8 and i3:  The i8 is a hybrid sports car that promises to take green motoring to new heights, while the i3 is a fully electric city car. The latter will be the first to arrive to South Africa, in the second quarter of 2014.
Mercedes S-Class: Its luxurious beauty is finished off with a perfumed interior and about 150 buttons and switches to play with.
Audi R8 V10 Plus: The new flagship of the Audi R8 trio. With improvements to the engine, the V10 plus is a driver's dream.
Chevrolet Camaro ZL1: This convertible boasts 430kW and is said to reach 100km/h in 4.1 seconds. Alas, there are no plans to make it in the right hand drive version, so it's not likely to be seen on the South African roads.
Volkswagen iBeetle: As can be discerned from its name, Volkswagen Beetle allows for full integration of the Apple iPhone using a special docking station and an app called Volkswagen Car-Net The Beetle.
FAW: The Chinese manufacturer unveiled South Africa's cheapest 1.3 litre car, FAW V2, expected to retail for just R99,995. Visitors were also taken by the FAW X80, a small SUV expected to hit the South African market at the end of second quarter of 2014.
Other cars that made their debut at the Johannesburg show prior to their 2014 South African launch include: Mazda3, Hyundai Veloster Turbo, the all-new 2013 Toyota Corolla, and the new Audi A3 sedan.
The Johannesburg International Motor Show details:
Duration: 18 – 27 October
Venue: Johannesburg Expo Centre, corner Rand Show Road and Nasrec Road, Johannesburg, NASREC